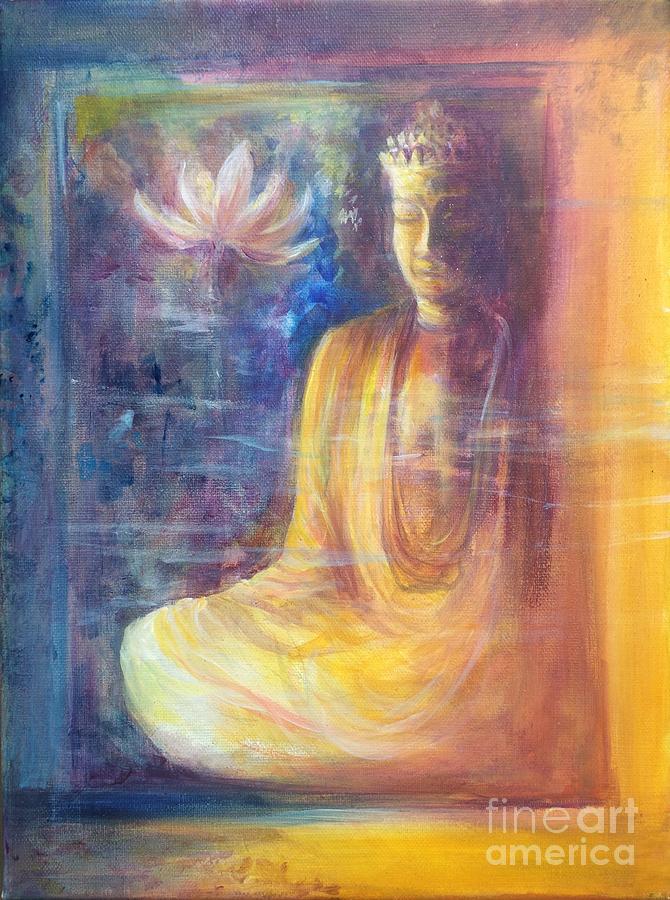 Dimensions
38.000 x 46.000 x 2.000 cm.
This piece has been already sold. Please feel free to contact the artist directly regarding this or other pieces.
Click here to contact the artist.
Title
Lotus flower before a Diamond mind Dorje sempa
Medium
Painting - Oil On Canvas
Description
FEATURED IN THE FAA GROUPS :-

PAINTING IN THE OLD WAY
LADY PHOTOGRAPHERS AND ARTISTS
BEDROOM ART GALLERY
AWESOME ASIA
BEAUTY IN ART

The Buddha's Diamond mind represents the Purifying aspect of all buddhas.

I understand in this day and age, any 'creed' or spiritual practise, any belief, any philosophy, as long as it helps you come to terms with the craziness in the world, it's OK.

For me, basic buddhism, a philosophy, not a religion, which embraces everything, has helped me accept, understand, still see the beauty in all things and maintain a balance and harmony in my life, despite all the terrible things that are part of human nature.

There must be bad, for us to appreciate good, black to recognise white, - and all the colours in between... are therefore justified.

This painting is dedicated to those who can't seem to come to terms with something in particular. To help in the letting go of anger, negative thoughts, hate.. all of which brings us nothing, but one thing - it takes away from our well-being.

Hence - A DIAMOND MIND
(tib: dorje sempa / skt: vajrasatva)

Diamond Mind represents the purifying aspect of all Buddhas.
Used in all schools of Tibetan Buddhism in different forms, he is the Joy State (Skt. Sambogakaya) of the Buddha Akshobya.

As part of the foundational practices (Ngondro), the united purifying power of the Buddhas of all times and directions is employed to remove our negative imprints still with us from the past. The practice especially targets anger, hate and ill-will, transforming them into mirror-like wisdom.

Diamond Mind is represented by "a transparency, white in colour' - how to depict this? - the swirling white energy, representing this "Joy State".

Uploaded
January 27th, 2019
Statistics
Viewed 509 Times - Last Visitor from Beverly Hills, CA on 09/10/2022 at 10:37 PM