Lizzy Forrester Art Collections
Shop for artwork from Lizzy Forrester based on themed collections. Each image may be purchased as a canvas print, framed print, metal print, and more! Every purchase comes with a 30-day money-back guarantee.
About Lizzy Forrester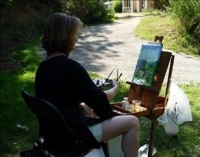 Gifts available with artwork at affordable prices Visit LIZZY FORRESTER\'S FINE ART STORE
http://www.cafepress.com/LizzyForrester

lizzyforrester474@hotmail.com



Press Release PR, Agora Gallery, New York
\"Lizzy Forrester conducts an orchestra of resounding colours with each stroke of her brush. Her luminous and higly textured canvases relfect a deep admiration for the Impressioist painters, placing a strong emphasis on the interplay of light on surfaces. But, Forrester\'s impetus for painting lies much deeper than a simple desire to render the rays of light as they cascade upon a placid pond or field of poppies. In fact, like a stream of consciousness, poem or impromptu musical composition, Forrester\'s works serve as expressions of the artist\'s innermost thoughts and emotions. Her stunning landscape paintings resonate with a sense of calm and happiness, evidencing the artist\'s strongly influential spirituality. Her artwork serves primarily as a communicative tool, created by impulse and an inexplicable urge to paint, but also expresses the self-taught artist\'s innate understanding of colour theory and sophisticated eye for spatial arrangements.\"

http://art-mine.com/ArtistPage/Lizzy_Forrester.aspx
www.art-mine.com is owned and operated by Agora Gallery, located in the very heart New York City\'s art district, Chelsea.
Collective Exhibition \"Sensorial Reaites\" Opening Night, 26th March 2009 at Agora Gallery - address:-
Agora Gallery
530 West 25th St
Chelsea, New York City 10001 USA


Upcoming planned events:-

May, Brighton Expo of Photograph of selected work \"Awakening II\"
May 11th Club Diario de Ibiza will hold the Opening Expo for the artists in the Ruta Del Arte, Art Club of Ibiza
June Expo of \"Awakening II\" at the Jealous Gallery, Crouch End, London UK

Recent Past events:-
Collective Exhibition, \"Sensorial Realities\" at Agora Gallery, Chelsea, New York , March 26th 2009
X-Power Gallery, N Rodeo Dr. Beverly HIlls, Selected pàinting \"Autumn Sky #1\", Opening Night and Award Ceremony 4th April

Submission of work to the \"Mall Galleries\" London, for the Sunday Times Watercolour Competition.


All Offers of purchase will be considered seriously
Commissioned pieces accepted (from photographs & also interpretations of other works are possible.)




HELP SPONSOR THE DRILLING OF A SECOND WELL FOR WATER IN UGANDA, AFRICA
50% of all sales of Prints will be donated to the drilling of a second Well in Uganda, Africa. I sponsored one last year, and was so thrilled and amazed to see that the BUSOGA TRUST really mean what they say.
\"..with this money you pay we are able to drill a well for water, (including the purchase and fitting of a pump etc.,) to bring water to a village in Uganda, Africa\"

On my website (type in the following link) you will find photographs of the well itself, the \"Well Caretaker\" the villagers, the village etc.,
The wonderful Photographs speak for themselves.
http://www.lizzyforrestergallery.com/index.aspx?wsid=45086§ionid=741398

Visit www.busogatrust.co.uk


50% de ventas de todos los Prints/ Posters de Lizzy Forrester se donará a la Organización Busoga Trust para financiar una segunda perforada, en un pueble de Uganda, AFRICA. Una perforada ya ha sido instalada en 2007, y al comprobar que efectivamente el dinero llega a donde se necesite, pues a por una segunda!
Visite la página web del artista, sección \"Busoga Trust\" - las fotos hablan por si. www.lizzyforrestergallery.com


THANK YOU SO MUCH FOR YOUR TIME, AND YOUR VISIT TO MY SITE

A little about the artist... :-)

Born in the UK, but resident in the Balearic Islands Spain for the last 20 years, Lizzy Forrester the artist decided to finally give up full time employment and \"dedicate myself fully to painting\".

I recently picked up brushes, paints and easel follwing a spiritual retreat in the summer of 2006, it goes without saying there is a true passion.

Self taught (apart from the basics learnt in school) although with help during childhood, at home as art was always \"around\": Dad was, and still is, an accomplished amateur artist, painting in oils: He always encouraged his kids. Despite working professionally in teaching and in other areas over the years, I \'ve always harboured a great passion for Art, studying Fine Art, Architecture & Interior Design at home, in my own time: A huge all consuming fascination and interest in the great artist\'s themselves, especially their works, finally surfaced, and firmly took root after a career break in the summer of 2006. Holidays had often been largely organised around major Art Gallery visits and important exhibitions, but since that spiritual retreat, I found I could no longer ignore the nagging creative needs.\"

Preferrences vary - for style, impressionism, realism and abstract; Main themes being lanscape, seascape, cityscpae ... - nature generally. A distinctive spirituality prevades her work, very much the influence of her own spirituallity, work and growth. She achieves a certain balance and harmony in colour and perspective no matter how strident or strong the subject matter or her interpretation of it may be, and there is always a haunting softness.

\"I paint to Classical Music and have created paintings to accompany Feng Shui studies: (work is prepared through colour and/or theme associated with energies and / or elements, to balance a certain environment). There is always I hope a subtle energy that reaches out and communicates with the observer. \"

Lizzy Forrester works from home in the Balearics;
Joint exhibitions and a number of commissioned pieces keep the artist busy.

Three works, selected by AIBACC, for a \"Promocion de artistas internacionales, I Salon, Pequeno Formato.\"/ promotion of International Artists, Barcelona.
Three works were presented to the Royal Academy in London, \"Summer Exhibition\" 2007.
She is delighted to have been accepted and now forms part of the eclectic group of artists online at www.santafeartworld.com
Two works, (Irises and Lake at Stansted, submitted for the blind Online \"Collector\'s Choice\" competition, SantaFeArtWorld website:
both works passed to the second \"Juried Section\"
Solo Exhibition May 9th - 23rd. Galería \"PLASTIKA\" saw more sales.